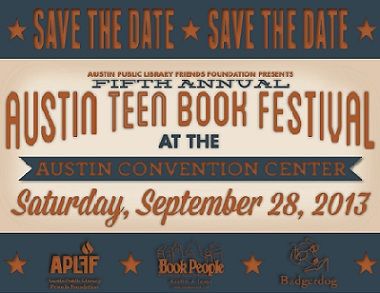 More and More Announcements!
We are thrilled to announce that our Opening Speaker for #ATBF13 is the one and only Maggie Stiefvater! She made us want to walk into the woods and fall in love with a wolf after reading SHIVER and now we wish we had a few psychic powers like Blue in THE RAVEN BOYS. Our Closing Speaker is Holly Black! We grew up with the amazing SPIDERWICK CHRONICLES and can't wait to dive into THE COLDEST GIRL IN COLDTOWN. Grab some food in the convention center and head on over to listen to our Lunch Speakers, Sarah Dessen and Rob Thomas! Dessen has written almost a countless number of amazing contemporaries including her June release THE MOON AND MORE, and Rob Thomas is having his 1996 hit rereleased, RATS SAW GOD, after his Veronica Mars movie announcement!
Need more news? PJ Hoover and Robin LaFevers joined the lineup!
Check out exclusive interviews from our Teen Press Corp at the Blog link above. Maggie and Holly talk about favorite books, Texas, and big hair! Be sure to follow us on Facebook and Twitter at @AustinTBF for news and updates!
UPDATES Announcements on May 15 & 17!